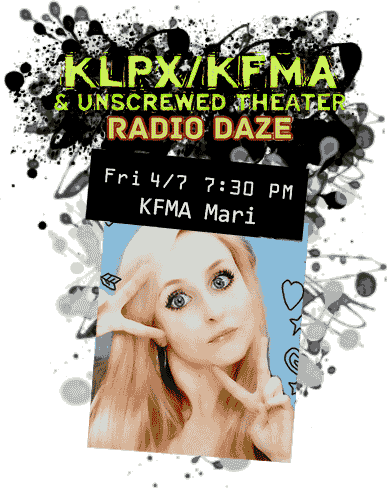 It's the weekend and you NEED to laugh!
Join Not Burnt Out Just Unscrewed for an Improv Comedy hullabaloo this Friday and Saturday at their permanent home, Unscrewed Theater! Shows start at 7:30pm.
As always, we'll take your suggestions and turn them into comedy scenes and games that are seen once then never again. Plus we'll keep it clean – so the whole family can enjoy the night together!
Admission to each show is only $5!
Come to one, come to both! Every show is different because the suggestions come from you, our amazing audience!
It's going to be a fantastic weekend, in our fantastic theater! We sincerely hope you join us as we get the Improv party started! Box office opens at 6:30pm Friday and Saturday.
Unscrewed Theater is located at 3244 E. Speedway Blvd. Tucson, AZ 85716 (across from The Loft Cinema, next to Fronimo's). Parking and entrance are located in the rear of the building. Turn in to the Walgreen's parking lot and go to the left around the building.
Online ticket sales end at 5:45pm on the day of the show.
Unscrewed Theater is a 501(c)(3) nonprofit organization dedicated to teaching, performing, and producing all forms of live improvisational theater in Tucson, AZ.
Box Office Policies
All online Pre-Sale/Will Call tickets will be available for pickup at the door with photo ID .
Pre-sale tickets must be picked up before the show begins.
All sales are final. Refunds will only be given if we are unable to perform a show as scheduled.
Seating is first come, first served. Doors open 30 minutes before curtain time, so arriving early is recommended for large groups that wish to sit together.