Welcome to Tucson's only volunteer-led 501(c)(3) nonprofit Improv Comedy Theater!
Sorry, Bill! Fun with Shakespeare!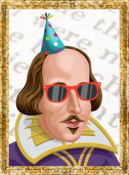 April 22 is Shakespeare's birthday, and we're going to have some fun with Shakespeare-inspired improv. Family-friendly, thoroughly silly, Elizabethan fun!
What's happening at Unscrewed Theater?
Hybrid Event
Uncensored improv with Not Burnt Out Just Unscrewed and The Big Daddies.
Don't Go - From The Top - 2023-04-07
We Need Money for Gas - From The Top - 2023-04-07
Car Hooligans - From The Top - 2023-04-07
The Life of a Panhandler - From The Top - 2023-04-07
A Night at the Opera - NBOJU - 2023-04-08
Everyday Olympics - NBOJU - 2023-04-08
Half-Life - NBOJU - 2023-04-01
Chain Murder - NBOJU - 2023-04-01
Rewind - NBOJU - 2023-04-08