Totally rad! We're putting on a funky fresh 80s themed show. It'll be family-friendly and full of mad legit faves from all our House Teams. Yes way!
Join us for an outrageously bodacious night of awesome 80s improv fun!
Join us at the theater with our in-person Laughing Pass, or join us online with our Live Streaming BOGO!
An Awesome 80s Improv Show (Family-Friendly) at 7:30.
Not Burnt Out Just Unscrewed & The Big Daddies (Uncensored) at 9.
$10
(Price applied at checkout)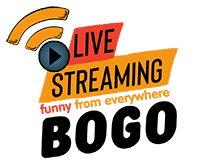 $8
(Price applied at checkout)