As of late, improv via Zoom has felt a little stiff, hasn't it? It's okay. We know it's hard to see the zoom square as a virtual playground rather than a virtual cubicle. However, this physical workshop, led by Elizabeth Byland (co-founder of Queen City Comedy, Professor of Improv at Virginia Commonwealth University, and the other half of Bianchi & Byland) will give you a new creative lens on Zoomprov and the playground that surrounds you, whether you're in an office, a bedroom, or a beautiful theatre!
Experience Level
Intermediate. Completed Improv Basics or equivalent beginning class.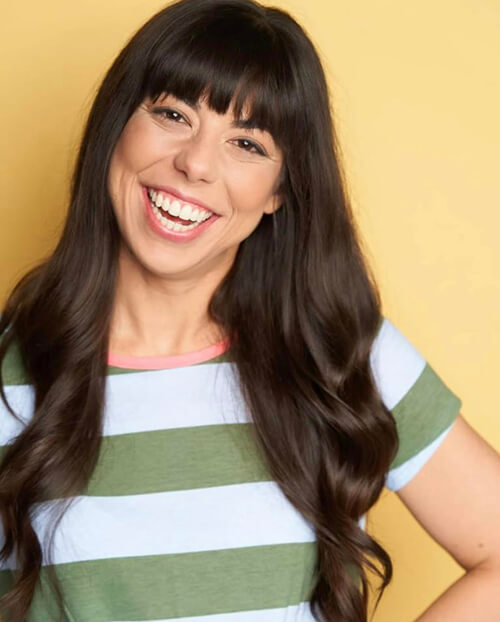 Elizabeth Byland (better known as EB) holds a joint faculty appointment at Virginia Commonwealth University in Richmond, Va, as the Head of Improv with the School of the Arts and the Director of Applied Health Improv with the Center for Interprofessional Education and Collaborative Care. In addition, she serves on the Board of Directors with ComedySportz Richmond and performs as a company member with Coalition Theatre, founder of her own non-profit organization called Comedy Connects, and a co-founder of Queen City Comedy as a professional film/television actor.
EB provides a unique opportunity for those of all learning abilities, backgrounds, and experiences to learn, grow, play, and express themselves creatively in a safe and positive environment while utilizing the techniques of improvisation. Elizabeth holds a BFA in Acting from Northern Kentucky University and an MFA in Performing Arts from the Savannah College of Art and Design and professional improv training from iO Chicago (levels 1- 5B).
She brings her joyful energy, along with her 12 years of teaching experience and 17 years of performance experience, and a mission to help others reconnect and say "YES" to life!
Currently, she coaches three college improv teams from VCU, and she performs on two duo teams: BABE and Bianchi and Byland. In addition, she's performed at The Tampa Improv Festival, Cape Fear Comedy Fest, Queen City Comedy Experience, North Carolina Comedy Arts Festival, 2nd Best Comedy Fest, Festivus, Miami Improv Festival, Charm City Improv Festival, VB Comedy Fest, Norfolk Comedy Festival, and the Chicago College Improv Tournament, along with performing at regional theaters across the SouthEast.