Join ladies from our House Teams and SPECIAL GUESTS from Tucson's stand-up community, featuring Nancy Stanley from the Estrogen Hour, for an UNCENSORED evening of improv inspired by stand-up!
Ladies drink free*!
(*Sorry, we still don't serve alcohol, but … all the drinks we do have? FREE!)
Join us at the theater with our in-person Laughing Pass, or join us online with our Live Streaming BOGO!
Not Burnt Out Just Unscrewed (Family-Friendly) at 7:30.
Ladies Night (Uncensored) at 9.
$10
(Price applied at checkout)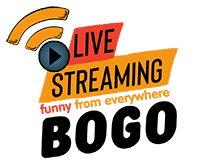 $8
(Price applied at checkout)