It's a Nerds' Night Out pop culture adventure in improv! Join members of our House Teams for games and scenes steeped in the nerdy lore you know and love.
If you're a cosplayer, come in costume for our Cosplay Parade! We'd love to meet your character and let them inspire some of our improv!
Join us at the theater with our in-person Laughing Pass, or join us online with our Live Streaming BOGO!
Unscrewed Family Hour (Family-Friendly) at 6:00.
Into the Unscrewed-iverse (Family-Friendly) at 7:30.
$10
(Price applied at checkout)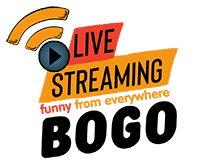 $8
(Price applied at checkout)